During the event, ended with the Emirates Team New Zealand retaining the ambitious prize, the Selcom team was excited as if they had been sailing too.
The Italian company in fact manufactured most part of the carbon-fibre multiaxials for the components that were installed in all the racing boats.
Based in Italy near Venice, Selcom specialises in the production of bespoke technical reinforcements utilizing carbon, glass, aramid and natural fibres.
The continuous search for innovation and the experience gained in 30 years of activity in the world of composite materials shall ensure that Selcom is associated with the quality of the fabrics produced to serve the marine, the automotive, the sporting goods and the infrastructure sectors.
Luca Favero – COO of Selcom – explains: "The core values of Selcom are Customer Care, Quality Service associated with Flexibility and Reliability. Making high-quality products to match customers' needs are values transversally shared by the whole team that works proactively to make this happen."
A challenging project
"For this project, we analysed the technical requirement and, deviating from standard production, we have then defined a product strongly influenced by racing cars applications." says Alberto Pizzol – Selcom's Technical Sales Engineer who has followed the product development.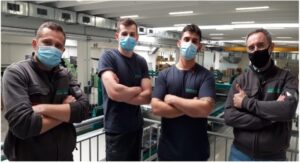 "The tight deadlines and the peculiarity of the fabric manufacturing were the real challenge. We are proud we could take part of the project for it confirms that our efforts are recognized and appreciated," he adds.
Not only technological excellence but also a great passion for the advanced composite materials and applications: "It is a compelling sector that still has much to offer, and we aim at a strong growth in medium to long term" Mauro Pizzol – owner of Selcom – declares. "Despite the pandemic, we succeeded to win important projects and we are witnessing a great market excitement that bodes well for the future." And he continues: "It is hard to predict what is going to happen in the next months, but it is a compulsory effort for the future: investing today and be ready to seize growth opportunities which are coming, in the post COVID era.
And Selcom has already turned the page and is looking ahead. "Recently, important investments have been done in additional cutting edge technology assets to better meet market demand and leading as well to greater production capacity.
"The end of the Pandemic will change the rules and propose a different way of working. We are ready and we want to be a Key Player in this new game."