Our primary goal is the complete satisfaction of the customer and contribute to the social community through the creation of value with ideas, innovative products and technologies.
Be chosen and appreciated by its customers means to excel in efficiency, quality, economic competitiveness, product reliability, performance, image and security.
Our main goal is get to excellence as a key for continuity and growth.
Excellence,that could be reached only with the full commitment of all of us.
Towards our Customer: provide our customers a new value, with High Quality products and Excellent Services.
Towards our Employees: offer to Our Employees The Growing Opportunities in a challenging environment.
Towards the Community:  establish ties and develop mutual trust as a responsible Community Member.

QUALITY MANAGEMENT SYSTEM'S CERTIFICATION [ RINA ]
RINA's certification n. 616/97/S
in compliance with the standard ISO 9001:2008

Selcom stands out with trademark "FCS fiber control system " that refers to all the fabrics manufactured with its multi-axial machines. Every single plant is equipped with an electronic control system that monitors the presence, the lack or the breaking of every single fibre or yarn and, that promptly stops the machine in case of a failure. This process allows the operators to check and fix the possible issues that may be encountered during the production of Non Crimp Fabrics.
Thanks to this system that we introduced in 2004, we have noticed a great reduction of textile waste due to production defects and thus a remarkable increase in fabric quality. SELCOM is continuously operating to improve and ensure the supply of high quality products to its customers.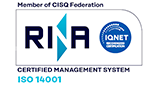 QUALITY MANAGEMENT SYSTEM'S CERTIFICATION [ RINA ]
RINA's certification n. EMS-9282/S
in compliance with the standard ISO 14001:2015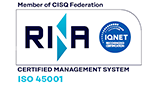 QUALITY MANAGEMENT SYSTEM'S CERTIFICATION [ RINA ]
RINA's certification n. OHS-4831
in compliance with the standard ISO 45001:2018